At around 6-9 months once your baby has developed a taste for food, you can start to combine flavours and get a little bit more adventurous! This stage is all about mashing, finely chopping & chunkier foodsYour baby will be developing quite rapidly at this stage which means their eating habits will develop rapidly too. So, not only should you be adding texture and increasing the variety of fruit and vegetables, you should also be introducing dairy produce, meat, poultry and fish.
TACKILING TEXTURE
So, your baby has been happily sampling the delights of pureed fruits and sweet root veggies, but now is the time to up the ante and tackle texture. If you're unsure of where to start then here are my top three tips:
Make purees thicker
Why not try mashing a portion of their meal and then adding it to the blended puree. Once they are open to a thicker texture then you can slowly stop pureeing altogether and simply just mash the food by hand.
Finely chop veggies
You have to be careful with this as surprise lumps can soon put a baby off. Start by softening small cubes of apple, carrot or butternut squash which will allow their gums to squash them when they try to chew. Once you feel comfortable that they are taking to texture well you can gradually increase the level of texture and size of the lumps.
Add chunkier foods
A top tip of mine is to add baby pasta shapes to their favourite puree. As it will be a taste and flavour they are familiar with, they will in turn, be more inclined to give an unfamiliar texture a go.
CONQUERING TASTES
I'm a big believer in introducing lots of flavour from an early age. Babies grow more rapidly in their first year than any other in their life. There's a window of time when your baby is aged between six months and one year, when they will be pretty good at trying all kinds of food. At this age, babies are growing really fast, which means they need to get lots of nutrients, so they have an in-built motivation to try a range of foods. Here are a few new foods and flavours to try:
Herbs & spices
It's important to avoid adding salt, sugar and honey to your baby's food so I like to instead add flavour in the form of herbs and aromatic spices. Good starting points are thyme, dill, parsley, dried oregano, ground coriander, cumin and cinnamon.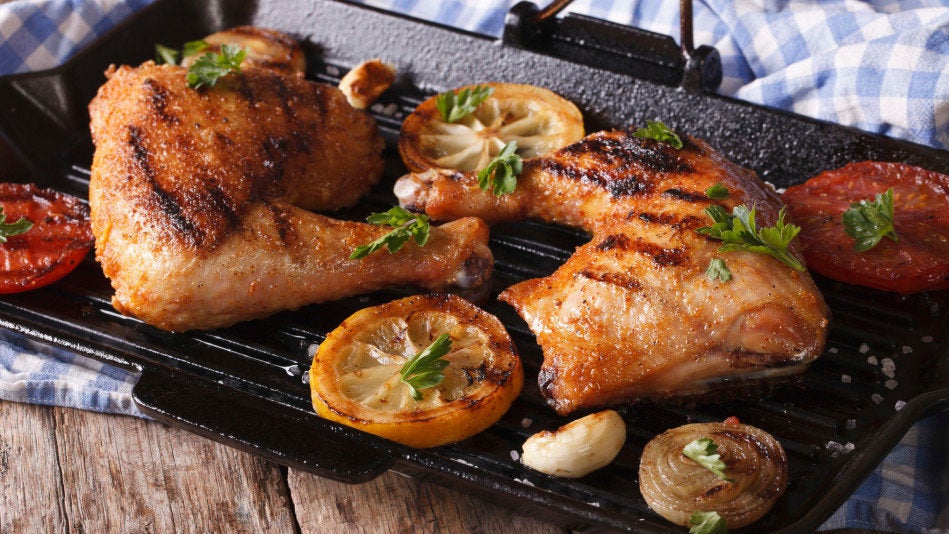 Chicken
Chicken is great as it's so versatile. You can combine it with sweet root vegetables, such as carrot or sweet potato, to give it a smooth texture, or add fruit such as apple to give it a slightly sweet taste.
If you make a roast for the family, you could mix some of the roast chicken with cooked vegetables and some stock or a fruit puree. The brown meat of the chicken contains more iron and zinc than the breast, so save this for your baby.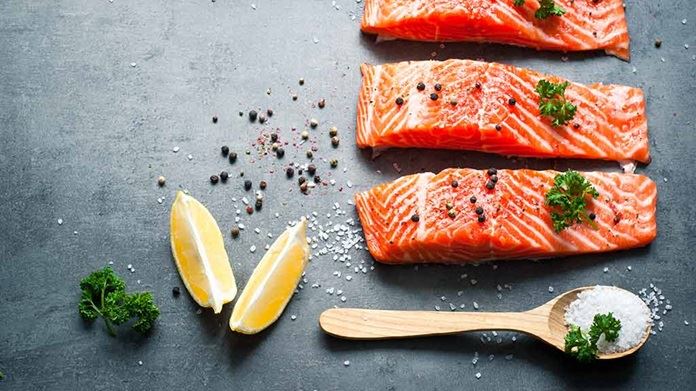 Fish
Fish in your baby's diet is so important. We know that the healthy fats contained in fish encourage growth as well as the development of your baby's brain, nervous system and vision. Oily fish such as salmon or mackerel is a great source of Omega 3 fats.
Try mixing fish with stronger tastes such as carrots, tomato and grated cheddar (and always check for bones before serving).
All-Important iron
Iron is important for your baby's brain development, especially from six months when the iron inherited from a baby's mother runs out.
Start with cooked lean beef, puree into a smooth consistency and combine with fruit or root vegetables. You can them move on to cooked minced meat, which you can whiz in a blender for a few seconds to make it easier for your baby to swallow.
For more recipe inspo, visit www.annabelkarmel.com and if you're about to start tackling texture, check out Annabel's range of Stage 2 Organic Baby Purees, inspired by her home-cooked recipes here
EASY ONE POT CHICKEN
Prep: 15 minutes
Cook: 25 minutes
Makes: 3 portions
Suitable for freezing
Ingredients
1 tbsp olive oil
50g onion, chopped
100g chicken breast, cut into chunks
60g carrot, peeled and sliced
300g sweet potato, peeled and chopped
1 small apple, peeled and chopped
200ml unsalted chicken stock
40g frozen peas
Method
Heat the oil in a saucepan and sauté the onion for 3 to 4 minutes until softened.

Add the chicken breast and sauté for about 3 minutes

Add the carrot, sweet potato and apple. Pour over the stock, bring to the boil and simmer, covered for about 12 minutes.

Add the peas and continue to cook for 3 minutes.

Puree in a blender with enough of the cooking liquid to make the desired consistency.
SALMON WITH CARROTS, CHEESE & TOMATOES
Prep: 15 minutes
Cook: 20 minutes
Makes: 4 portions
Suitable for freezing
Ingredients
250g carrots, peeled and sliced
225g salmon fillets, skinned
2 tbsp milk
40g unsalted butter
2 ripe tomatoes, skinned, deseeded and chopped
40g Cheddar cheese, grated
Method
Put the carrots in a steamer set over a pan of boiling water and cook for 20 minutes. Meanwhile, place the fish in a microwavable dish, add the milk, dot with 15g butter and cover, leaving an air vent. Microwave on high for 2-3 minutes. Alternatively, put the fish in a pan, cover with a little milk and simmer for about 5 minutes, or until cooked through.

Melt the remaining butter in a saucepan, add the tomatoes and sauté until mushy. Stir in the cheese until melted. Blend the carrots with the tomato mixture. Remove the fish from its cooking liquor and flake, making sure there no bones. Mix the fish with the carrots and tomatoes. For younger babies you can blend the fish together with the carrots and tomato for a smoother texture.