It's a hot and sunny weekend in Hong Kong. You've made no plans for the day as yet. The kids are becoming restless jumping all over the sofa eager to get outside and make the most of the day. The first thing that pops in to your mind is going to the beach or the pool, or perhaps the bike park and slides.
But what about a trip to the museum? There are two amazing exhibitions at the Hong Kong Science museum and Hong Kong Maritime museum ending at the end of September that are well worth a visit.
There's good reason why schools take children on day trips to museums. They are not only educational and fun but your child is allowed to interact freely and take ownership of their personal learning adventure. So, why not share it with the whole family?
Some of the best museums in Hong Kong are located in areas you may not have visited before and travelling there means 'getting off the beaten track' and using a variety of different transport options.
Has limited car parking spaces available so your best option is to catch the MTR to Sha Tin. Special exhibits include a large collection of 'Bruce Lee Kung Fu Art Life' memorabilia, a 'Children's Discovery Gallery' with 8 interactive learning zones for children aged 4- 10 years, and various exquisite Chinese art gallery collections.
Located in Tsim Sha Tsui (TST), Kowloon, is within walking distance from TST, Jordon, Hung Hom or East TST MTR stations. The museum features 8 galleries over two floors detailing the 'Hong Kong story' featuring the natural environment, folk culture, and historical development.
Located in TST and within walking distance from MTR stations this compact museum features an outdoors 'Astropark', exciting astronomical shows viewed in the Stanley Ho Space Theatre, and special family tours and lectures.
Located in TST and within walking distance from the MTR stations is a top pick to entertain and amuse the family. There's a whole new world to explore and interact; get lost in the world of mirrors, learn about light, motion and sound, be amazed by how the world communicates, and let your little ones' build, build, build to their heart's content in the Children's Gallery. The highlight of the exhibition are six Egyptian mummies that have been dated between 3,000 and 1,800 years old. The exhibition is until 30th September, 2017.
Centrally located at Central Ferry Pier no.8 and within walking distance from both the MTR, bus and tram routes the Maritime Museum has dynamic special exhibitions, galleries, multi-media art collections, family tours, workshops, courses and an events gallery. Highlights include the contemporary art exhibition on sharks and humanity recognising the important role sharks play in the marine ecosystem. And currently they are presenting a special exhibition and putting the spotlight on sharks. It is until 29 September, 2017.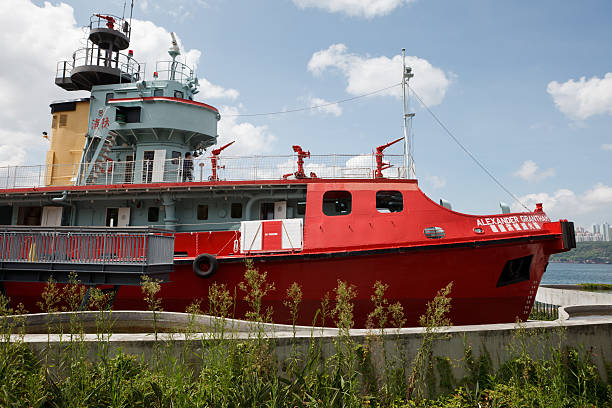 Located outside on the waterfront in Quarry Bay Park is a 'real' historic fireboat that your little ones can climb aboard and explore. Adjacent, is the stylish museum gallery that showcases signature elements and materials from the fireboat and maritime themes in to its overall design, not to be missed!